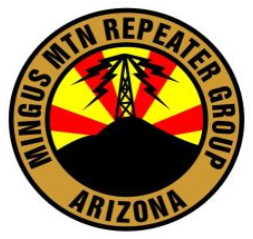 K7MRG
mmrginc@gmail.com
Corporation Officers
President Bob Sitterley  K7POF
Vice President Tom Griswold  WN7E

Secretary Lori Cripps WA7EDI
Treasurer Bob Sitterley K7POF
Board of Directors
Sonja Hazlett WB7CWW
Jerry Roberts KB7CN Tech
Gary Hamman K7GH
Butch Merrill K7JOG
Ken Rasbach KK7KEN
Tom Raczykowski N7MMC Tech
Larry Dorrell KG7TTD
Board member tech committee emeritus
Hartley Gardner W1OQ
Group Historian OPEN
Founder and former Presidents
Oliver Grieve W7WGW / W7AFC (SK) Director / Founder Emeritus
Ernie Hawran WA7VWG, Emeritus,
Past President 1976—1994
Bill Lieske, Emeritus, (SK)
Tech Committee 1974– 2003
MMRG Celebrates it's 48th year in 2022
History of Mingus Mountain Repeater Group, Inc.
This group was founded in early 1974 by about 10 hams who believed a need for good communication existed between most of Phoenix and the north central mountains of out great state. With this thought in mind, the push began with members donating gear, money, and time (lots of time).
The struggle began with an old Motorola tube type base station radio that was set up  in the home of Oliver Grieve, W7WGW. The first call letters assigned the machine  were WR7ABL, licensed to Gabe Romero, K7NOK.
Late in 1974 the call letters WR7AFC were issued to the site and we became known as "Arizona's Finest Channels". Months later, repeater call signs issued by the Federal Communications Commission  were no longer required. The FCC permitted individual call signs on each site.
The site then became W7WGW/R.
Our repeater was established at the KOOL translator building on Mingus Mountain  and not long afterward it was stolen. A year passed before we were able to acquire  our own site, and on Father's Day 1977 the group installed our first repeater on Mingus Mountain at a different location than the KOOL building. The building and the tower were homemade and assembled and welded in Phoenix by WA7WAH, WA7ZDZ, WA7VDZ and WA7UID.
In October 1977 the frequency pair of 147.270/147.870  was acquired by the group, and a second machine was installed atop the Financial Center, Central and Osborne in downtown Phoenix. In June of 1985  the frequency was changed to 147.280/147.880 to conform to the Arizona Band Plan of a 20 KHZ separation.
In 1979 a UHF repeater operating on 442.150/447.150 MHZ was installed at the Mingus site, ushering the group into the UHF era. Later this repeater located on Mingus became a part of the Northlink system. The Northlink system is no longer on this repeater, however the 442.150 repeater is operational from the MMRG building with the call sign of K7MRG/R and is both analog FM as well as Fusion Digital. Analog in analog out or Fusion in Fusion out. Id on both repeaters on Mountain is K7MRG/R
In 1988 a new building was added to the site on Mingus to house the radio equipment owned by MMRG. The old building now houses the battery system and chargers which operate the systems daily on the mountain. In 2010 the Vanity Club Call of K7MRG was obtained and put on the Mingus Mountain repeater which now signs as K7MRG/R. The downtown Phoenix repeater signs as WA7UID/R.